Henri Lecoq The Geological Epochs Of The Auvergne, With 170 Boards. 1867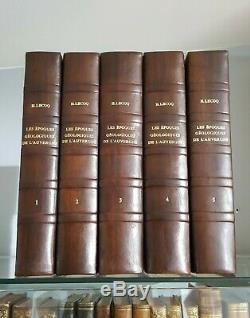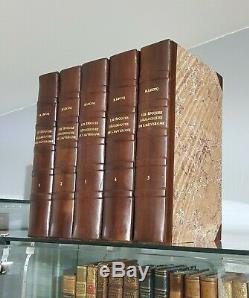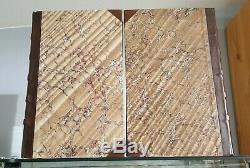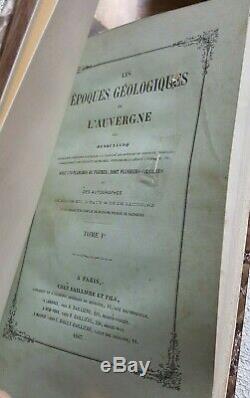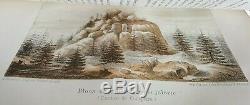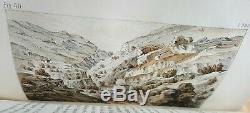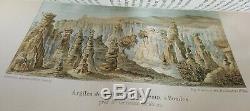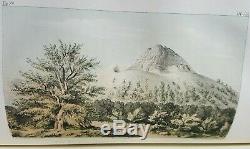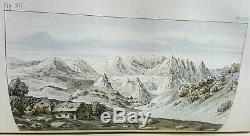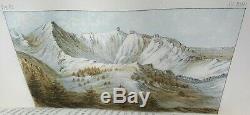 Lecoq [henri] geological eras Lauvergne with 170 boards or figures, many colored, and autographs dolomieu, dhauy and saussure, and a drawing facsimile Madame Necker de Saussure (1867). The geological epochs in the Auvergne. Lecoq Natural professor of history at the Faculty of Sciences of Clermont-Ferrand, France of the Institute of corresponding officer of the legion of honor, etc.
With 170 boards or figures, many colored and dolomieu autographs, & dhauy of saussure and a facsimile drawing of Madame Necker de saussure. In Paris in Baillière and son, bookseller Imperial academy of Medicine, 19, Rue Hautefeuille.
In New York, at h. Bailly-Baillière Calle del principe, 11. 5 volumes with modern half sheepskin binding, in lépoque style. Illustrated with numerous colored plates and several autographed letters.
A must for geology and mineralogy in the Auvergne. Volume I: xx + 504p. + 19 plates illustrated in black and colors which 1 fold. Volume II: xj + 1 bl. + 9 plates black and colors including 2 extendible. Volume III: xij + 574p. + 31 boards 2 and facsimiles. Volume IV: xij + 494p. + 40 boards and 1 facsimile. Volume V: viij + 560P. This rare book is the text of the Geological latlas the Auvergne. Some light spots inside of louvrage, otherwise good condition.
\First of this is the realization dune gigantic geological map of the department of the Puy-de-dome, measuring over nine square meters, the largest ever drawn. Its scale, the forty thousandth, allows him to place a lot of details with fifty shades and different signs with land, different veins, eruptive items with their castings, mineral sources and indicating more than eight thousand altitudes. Several copies of this card, funded largely by lecoq were published in 1861 with the help of the General Council. Lecoq then proceeds den the leaflet and, carried away by his subject, published five years later, a book of more than two thousand seven hundred pages in five volumes, illustrated with one hundred and seventy boards entitled \. This is certainly the most consistent of the geological map ever written notices!
As he says in his introduction, this is the first modern book written about the geology in the Auvergne. Obviously, he cites his illustrious predecessors. But the books of ramond, Montlosier, desmarest dolomieu and all date from the late eighteenth century or early nineteenth.
He also recalls the memory of Jean-Baptist Mossier, recognizing his paternity of a large number dobservations but blamed (as with other dolomieu) of navoir never published his notes. Lecoq had the opportunity to consult them, because they were kept in the museum of the city with the mineralogy collection. They have unfortunately disappeared, but perhaps they will reappear one day, from dune dusty trunk kept in the university laboratory of geology.
Louvrage of lecoq, sil full of accurate descriptions and will be extremely useful to his successors, the theoretically already seems a bit overwhelmed upon its release. In its interpretation of the chain of domes, he returns to a quarrel which he is probably the only survivor. The famous controversy about the theory of craters von buch uprising.
So, about the Puy pint, he wrote: \It was also the first thought quinspira view of the mountain to a famous naturalist that he was accompanied (presumably of saussure). Count Montlosier antipathetic to every kind of uplift, especially craters wearing that name, do not let the example of introducing pint in discussions that one had with him on this chapter of geology.
\Lecoq leaves also carried away by the lyrical style that is often criticized. His description of the view that one can kiss the top of the Puy de Dome takes five pages in the last volume, lecoq back at some length about his theories of glaciers and cooling of the earth, that he had already explained in his book \climates \He tried unsuccessfully to present the \ And it is mainly formed by ViaMichelin map, the \Excerpts from louvrage \mr. Lecoq Henry (1802 1871): French botanist and naturalist. Director of the Botanical Garden and the Museum of history Natural Clermont-Ferrand, Dean of the Faculty of Sciences of the city, deputy chairman of the central company dagriculture the Puy-de-Dome. Known for his numerous books on botany, geology, mineralogy, and the formation of glaciers in Auvergne. The item \The seller is \This article can be shipped worldwide.
Special features: original edition <\/ li>
changed object: yes <\/ li>
time: xix <\/ li>
Binding Leather <\/ li>
Publish name: geological epochs of Auvergne <\/ li>
description of the amendment: modern binding performed by a skilled craftsman, a half-sheepskin corners <\/ li>
Language: French <\/ li>
place of publication: Paris, London, New York & madrid <\/ li>
author: Henri lecoq <\/ li>
topic: geology, mineralogy, regionalism ... <\/ li>
publication date: 1867 <\/ li>
Name: Baillière and son, h.