David d'Angers, Napoleon medallion, bronze, Empire era, 19th century.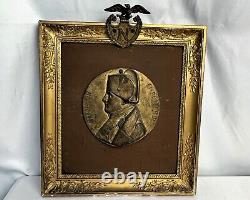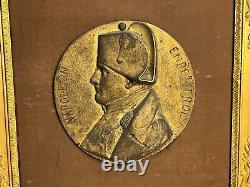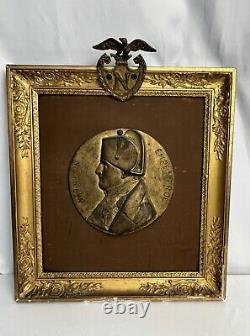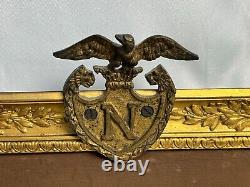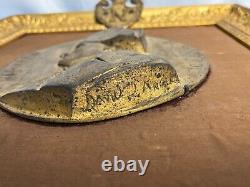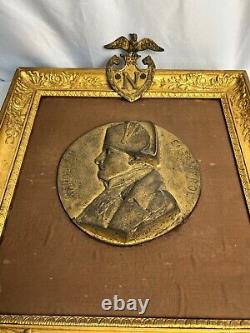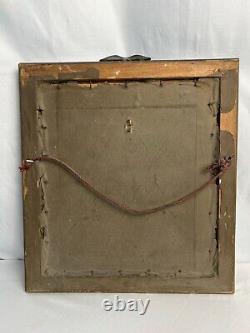 A gilded bronze medallion depicting Napoleon in profile with the inscription Emperor and King. Signed David d'Angers underneath the base.
Beautiful gilded wooden frame topped with a bronze eagle engraved with the initial N. Dimensions: 34.5 x 37.5 cm, diameter 17.5 cm. Pierre-Jean David, known as David d'Angers.
In Paris, in 1808, David sculpted ornaments for the Arc de Triomphe du Carrousel, and then worked on a frieze for the Louvre Palace. In 1809, he obtained a medal from the Academy and caught the attention of the painter Jacques Louis David, who shared the same surname. In 1810, he won the second prize in sculpture, and in 1811, he won the grand prize in Rome with the bas-relief "Death of Epaminondas." He became a pensioner of the Academy of France in Rome. He created a quantity of monuments, tombs, statues, busts, and bas-reliefs, including the famous pediment of the Pantheon in Paris in 1837.
In 1848, he was elected representative of the people for the department of Maine-et-Loire. A museum of monumental sculptures and bas-reliefs is dedicated to him in his hometown of Angers. Feel free to ask for international shipping rates!